What does diversity have to do with journalism? Everything. In an immersive two-day experience, explore identity and how it influences coverage, uncover biases you weren't aware of and create a more inclusive organization environment. Walk in with an open mind and walk out with a plan for change. This session will feature a special focus on religious expression and immigration.
Here are the top five reasons you should participate in the Diversity and Inclusion special track at the Summer Workshop:
You will learn basic and intermediate social justice concepts and how they apply to journalism.
Gain skills to tackle tough conversations with your staff and campus.
Review best inclusive journalism practices and see how your shop compares.
Hear from journalists working in communities affected by Islamophobia and immigration changes.
Create a full action plan to make positive change on your campus.
This track technically takes place after the workshop is over:
2-8 p.m. Sunday
9 a.m.-6 p.m. Monday
---
Instructor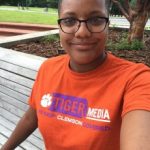 Jackie Alexander serves as the Assistant Director for Tiger Media at Clemson University. Alexander got her start at the University of South Carolina's daily student newspaper The Daily Gamecock, where she was news editor before ascending to editor-in-chief for its 100thanniversary. After several years reporting on health and education in Florida, Alexander returned to student media and recognized a passion for the intersection of journalism and social justice. She currently sits as the chair of the College Media Association's chair for the diversity and inclusion task force.