Editors and staff members sometimes feel like odd ducks in college media operations focused on news gathering and reporting. This workshop will specifically prepare literary arts magazine staffs for the upcoming year by focusing on:
Staff recruiting, organization and management.
Financing the magazine.
Overall issue planning, organization and theme.
Soliciting and evaluating student contributions.
Editing and proofreading.
Verbal content including poetry, narrative fiction, dramatic dialogue, personal essay, nonfiction writing, translations and multimedia presentations.
Visual content including evaluating art, using art to complement writing and strategies for overall magazine design.
---
INSTRUCTOR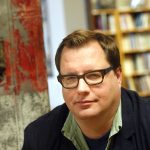 Jim Cihlar is a Senior Lecturer at the University of Minnesota, where he teaches Literary Magazine Production Labs I & II and advises the student staff of The Tower. He is also the publisher of Howling Bird Press, the student-staffed imprint of Augsburg University's MFA in Creative Writing Program. In addition, he teaches Queer Literature, Modern Fiction, American Poetry, Journalism, Creative Writing, and more. Previously, he has taught at Macalester College and the University of Wisconsin. He earned his BA in English at the University of Iowa, where he studied in the Writer's Workshop, and his MA and PhD in English at the University of Nebraska, where he served as editorial assistant for the Great Plains Quarterly and Prairie Schooner. He has worked at such literary presses as New Rivers Press, Coffee House Press, and Milkweed Editions. He has written reviews and columns for the Minneapolis Star Tribune, the Lincoln Journal Star, and the Daily Nebraskan. His poems and essays have appeared in The American Poetry Review, The Threepenny Review, Lambda Literary Review, Western American Literature, and The Brooklyn Rail. He has received three Artist Fellowships from the Minnesota State Arts Board. The author of two previous poetry books, his next, The Shadowgraph, is forthcoming in spring 2020 from the University of New Mexico Press.