Literary Magazine Schedule • Jim Cihlar
Thursday, July 11
2:30 • Welcome
2:45 • Introductions
3:00 • Overview
Process (eight stages; from acquisitions to distribution)
Roles (job descriptions; business and genre committees)
Tools (Submittable, Chicago Manual, InDesign)
Read more about it (recommended books)
3:30 • Discussion: Identify main areas of interest and major questions
4:00 • How to judge literary and artistic quality
Models and Tropes: What we do and don't want
Assignment: Research a literary piece you admire and present it in class. Due Friday morning.
Friday, July 12
10:00 • Favorite author/artist presentations (informal)
11:00 • Protocols (online and in-class)
How to comment on peer /student work (goals, parts, revision)
Code of ethics (respectfulness, privacy, confidentiality)
11:30 • Job descriptions
Business committees
Genre committees
Tips (don't get hung up on titles; promote if warranted; work closely with advisor)
12:30 • LUNCH (on your own)
1:30 • Author correspondence
Calls for submission / soliciting work (fliers, social media, class visits, advisors, listservs)
Theme
Acceptances and rejections (conventions; Submittable templates)
Developmental editing (compliments, caveats, catalog)
Copyediting (style sheet; Copyeditor's Oath)
3:00 • BREAK (on your own)
3:30 • Proofreading
4:15 • Fundraising and collaborations (on-campus, in community, event-planning)
Assignment: Practice editing. Due Saturday morning.
Saturday, July 13
10:00 • Compare and discuss editing homework
11:00 • Production
Print bidding
Printer's specifications and terminology
Image requirements (CMYK, 300 dpi, eps)
12:00 • Components (Frontmatter, body, backmatter)
12:30 • LUNCH (on your own)
1:30 • Troubleshooting
How to work with authors and artists (begin by assuming . . . )
How to work with your advisor / instructor
How to work with each other
How to work with your printer
Campus and department considerations
Hot-button topics and covering your rear
3:00 • BREAK (on your own)
3:30 • Market research (on your own)
Assignment: Survey campus literary magazines and make note of what you admire. Present findings. Due Sunday morning.
Sunday, July 14
9:00 • Market research presentations (informal)
10:00 • Closing observations and last questions
---
INSTRUCTOR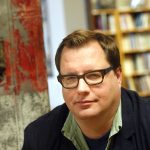 Jim Cihlar is a Senior Lecturer at the University of Minnesota, where he teaches Literary Magazine Production Labs I & II and advises the student staff of The Tower. He is also the publisher of Howling Bird Press, the student-staffed imprint of Augsburg University's MFA in Creative Writing Program. In addition, he teaches Queer Literature, Modern Fiction, American Poetry, Journalism, Creative Writing, and more. Previously, he has taught at Macalester College and the University of Wisconsin. He earned his BA in English at the University of Iowa, where he studied in the Writer's Workshop, and his MA and PhD in English at the University of Nebraska, where he served as editorial assistant for the Great Plains Quarterly and Prairie Schooner. He has worked at such literary presses as New Rivers Press, Coffee House Press, and Milkweed Editions. He has written reviews and columns for the Minneapolis Star Tribune, the Lincoln Journal Star, and the Daily Nebraskan. His poems and essays have appeared in The American Poetry Review, The Threepenny Review, Lambda Literary Review, Western American Literature, and The Brooklyn Rail. He has received three Artist Fellowships from the Minnesota State Arts Board. The author of two previous poetry books, his next, The Shadowgraph, is forthcoming in spring 2020 from the University of New Mexico Press.