By Alex Hlade

Success on the field does not necessarily equal success off the field or in Allianz Field for that matter.

Minnesota United FC knocked off FC Dallas 1-0 at home Saturday, rounding out a seven-game winning streak and bolstering the club's following in the Twin Cities.

However, recent issues regarding hospitality for patrons at the Minnesota United's new venue have indicated that there may be such a thing as too much success.

Minnesota United's new home, Allianz Field, which opened in April, has struggled to support the large crowds that it draws throughout this season, creating headaches for attendees and staff

The most recent incident occurred July 10 when fans were forced to wait in long lines after a rush of patrons congested the stadium prior to a game against New Mexico FC (that later advanced the Loons to the U.S. Open Cup's semifinals). Some attendees even missed the start of the game as a result of this inconvenience.

In addition, a viewing party for the Women's World Cup Championship game July 7 was plagued with issues including an insufficient amount of food and drinks as well as technical difficulties during the game's broadcast.

These cases prompted an apology from Minnesota United CEO Chris Wright, who cited a "singular commitment to provide a first-class experience for everyone who enters our doors — regardless of the particular event of circumstance."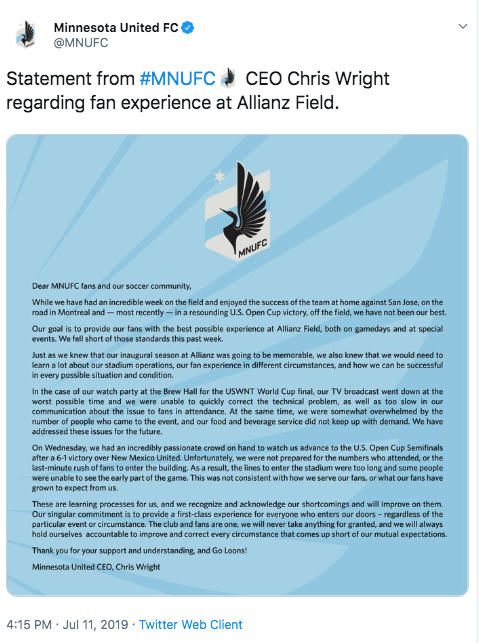 Wright's statement was circulated Thursday on Twitter via the team's page (@MNUFC) and drew favorable responses from fans who credited Wright for taking responsibility and promising improvements.
Saturday's game appeared to evidence this improvement, but it still showed that the stadium struggles to accommodate crowds nearing its capacity of 19,400.
The cavernous concourse proved insufficient in containing the large influx of fans heading to the bathrooms and concession stands at half time and crowds were particularly prominent near the stadium's North and East ends.
Stadium Layout (Main Concourse Level)

One patron colorfully retorted "this is where these lines get [expletive] obnoxious" when passing the venue's popular "Beer Hall" on the stadium's north side.

Saturday's match was sold out with 19,906 in attendance and no doubt future events including the US Open Cup's semifinals in August will draw additional large crowds.

Meanwhile, Allianz Field and Minnesota United have to deal with the challenges that come with success.