2023 workshop tracks
Advisers
Newer and veteran advisers will discuss the role of advising, and its rewards and challenges. We'll focus on recruiting, training, managing and motivating students, as well as technology, media law and ethics, campus relationships and finances.
Business/advertising
This training workshop is an excellent way to get your incoming staff members what they need when it comes to training, motivating and managing their peers. We'll cover best practices, develop new approaches and network and learn from each other.
Deliberative journalism through audience engagement
Collaboration, research and community insight
Let's spark a conversation.
Instead of taking the traditional approach to reporting, let's complicate the narrative and get to the heart of those issues that affect all community members.
As we move into what is sure to be an active election cycle, let's talk about how to reach out to your audience and engage the community — on campus and off — in having conversations about those key issues. In this session, students will learn about deliberative principles used to facilitate difficult conversations, the seven tasks of deliberative journalism and skills you can take back to your own newsrooms to spark those important (and difficult) conversations in your own communities.
Design
We'll focus on design across platforms, both print and digital. Our coverage and content deserve presentations that engage readers and users. We'll build upon the fundamentals of strong design — through content development, editing, visuals, typography and white space — and we'll evolve into how to make the most of your digital platforms.
Digital reporting & storytelling
Develop skills and approaches to the latest in storytelling, with images, words and graphics that engage users across platforms.
Leadership
If you're a new editor-in-chief, managing editor or section editor — or an aspiring leader who's ready to learn — the organizational leadership track is for you. Prepare for your new job by delving into leadership topics, including organizational tactics and policies, staff motivation, conflict resolution and media law and ethics.
Magazine
The magazine track will cover planning, execution and production of magazine publications. Students will learn considerations for using photography, writing and design in magazines then spend time out in the field practicing their skills as they work together to gather and produce magazine content.
The track will also look at magazine workflows and other production processes to help you prepare for a successful year whether you work on a glossy monthly, quirky quarterly, or any other type of magazine.
Photojournalism
Strong visuals remain as crucial as ever, and our workshop has helped dozens of photojournalists going into the year ahead. With both group instruction and individual coaching, we'll help you make the most of your skills and your equipment. Plan to get out and about to develop your craft.
Reporting / beginning
Reporting and writing remain the foundation of journalism and media, even as they becomes ever more digital. Your audience wants someone to find facts about the world around them and help them make sense of it.
We'll offer both beginning and advanced tracks, and we'll take the time to give you practical tips and insight to become a better reporter.
Reporting / advanced
This is an advanced multimedia storytelling track designed to challenge journalists who have been on staff two to three years. We will spend our workshop time in small groups, or if you prefer you can go solo, creating a story about or from the area that includes not just a brilliant, compelling narrative, but accompanying multimedia that engage and invite the audience to come along for a great ride.
Please bring your own laptop, a camera that can shoot photo and video, an external mic, tripod, and/or the identical appropriate tools for your iPhone/smartphone.
We will be on the go, so plan accordingly, i.e., appropriate shoes, etc. Plan to have a great workshop where we will develop your storytelling prowess.
Social media/audience engagement
Connect with your community across platforms — and plan and build content that engages users.
We'll focus on the resources at your disposal, how to build priorities for your staff and how to implement your plans from the start of the academic year. 
Sports
Sportswriters capture a game's energy, reveal players' personalities and detail the ups and downs of a team's season across all platforms. We'll explore the basics, the challenges and the ethics of sports journalism. And we'll gain some on-the-field training, too.
Yearbook
The yearbook track will cover planning, execution and production of collegiate yearbooks. Students will learn staff management, business, promotion, coverage, photography, design and writing with the goal of producing student-focused storytelling in a contemporary yearbook.
Visiting editors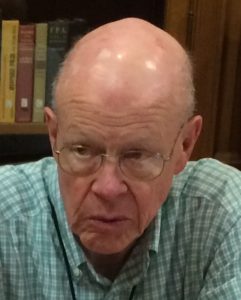 > Bill Elsen,
workshop editor-in-residence, offering portfolio critiques and career insight