You'll want to stick around on both Fridays for our à la carte sessions.
We'll offer four of them each Friday, on July 24 and July 31. They're optional, and the cost is included in your registration.
Each will be approximately one hour, with Friday start times staggered at 11 a.m. and 1, 2 and 3 p.m. CDT.
Check back here as our specific schedule is developed, but here's what we're planning —
July 24
11 a.m. CDT
Photo ethics
From breaking news to photo illustrations, how do we make sound ethical decisions?
Bradley Wilson, Midwestern State University
1 p.m.
Business working with editorial
College Media Business and Advertising Managers will be host for a panel discussion about the necessity of the editorial and business departments working together to achieve broad goals and advance the mission of student media at universities across the country. The discussion will include tips for collaboration, cooperation and problem-solving to establish a successful working relationship between the two areas of our organizations.
College Media Business & Advertising Managers board members

2 p.m.
Overlooked: How to save and make your newspaper $
Overlooked's mission is to build the social-news network that ends fake news. We've built the safest platform for people to share news articles with their friends, and we sell technology to help newspapers save and make money. Learn more about Overlooked's partnership opportunity with its founder and why joining the private social network can revolutionize how your newsroom disseminates the news.
George Sehremelis, Overlooked
3 p.m.
Top 10 legal issues for collegiate journalists
Hear from an expert who's helped many collegiate journalists and advisers.
Mike Hiestand, Student Press Law Center
July 31
11 a.m. CDT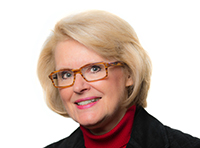 Better than Ever: Inclusion as a Newsroom Way of Life
Jill Geisler is the Bill Plante Chair in Leadership and Media Integrity at Loyola University Chicago and an internationally respected voice on management, leadership and ethics. She teaches and coaches in news organizations worldwide. In 2018, she was named the Freedom Forum Institute Fellow in Women's Leadership and leads its Power Shift Project, the Newseum's groundbreaking program to eradicate harassment and discrimination in workplaces.

1 p.m.
Necessity is the Mother of Invention: How to Have Your Best Fall Ever
While spring was in free-fall due to COVID and school closings, there is a silver lining that has emerged stronger than ever. With face-to-face marketing out of the question for fall, and an election cycle like no other, college media stands to be the recipient of ad dollars if you know where the money is and how to innovate new products. The good news is you don't need to go it alone. Join our friends at flytedesk to learn how to run your ad sales team better, make more money, quickly build new products, and have a huge lasting effect on your student media organization.
Piper Jackson-Sevy, flytedesk, with co-presenters Alex Kronman, Monica Brigham and Leen Obeidat
2 p.m.
Newsletters 101 (and 202 and 303 and 404)
Want to instantly reach more readers than your current print product? Start an email newsletter. It's not as hard as you think to set up. Get the basic info and some thoughts on setting up your newsroom and deadlines to feed a newsletter that will be a must-read. The result at one campus with a weekly press run is 5,500 and the newsletter that gets opened by 6,000 readers five days a week. If you're already producing an email newsletter, bring your success stories and growing pains to share.
David Simpson, Georgia Southern University
3 p.m.
Social Media Content Promotion: How to Get Your Journalism in People's Hands
You write content so people will read it, but it won't happen if you don't get the content in front of the right people. The majority of today's news consumers don't go seeking news. Instead, they bump into news while they're surfing social media. Learn best practices for social media content promotion to get your work in front of the people who want and need it most.
Kenna Griffin, University of Southern Indiana and CMA president